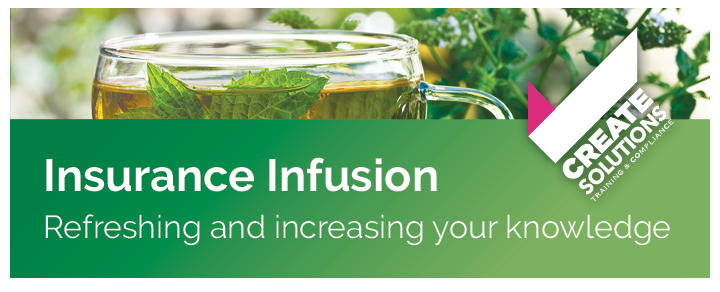 Professional Indemnity – 23rd Nov 2021 – Insurance Infusion Session with Alan Chandler
We are delighted to have Alan Chandler present our next Insurance Infusion session on 23rd Nov 3.30-4.30pm
This is FREE of charge to our clients. To book please email contact deborah@createsolutions.co.uk 
Professional Indemnity insurance – How claims can arise
Overview
This presentation provides an overview of professional indemnity insurance. It looks at the main case law underpinning the PI market, why the PI market is expanding in terms of number of policyholders needing the cover yet at the same time the capacity is decreasing.
The webinar, presented by Alan Chandler, one of the most popular presenters in the UK, explores the problems posed by a claims made wording and the difficulty clients have going into retirement without adequate run off cover. The presentation also looks at ensuring the correct limits of indemnity are set.
Learning Objectives
Delegates will be able to:
Understand the main purpose of professional indemnity cover
Understand the case law that supports the PI market
Understand why demand for PI is increasing but capacity decreasing
Understand the issues surrounding a claims made wording
Understand why limits of indemnity are often inadequate
Date: 23rd Nov 2021
Time: 3.30pm to 4.30pm
Held: via Zoom
Cost: FREE OF CHARGE TO OUR CLIENTS. 
If you are not a client please email karen@createsolutions.co.uk to enquire about a trial session. 
To Book:
Please note the maximum number of attendees is 3 per firm (if you need more then please let us know and we will let you know if we have any spare places due to cancellations)
We will not be sending you a booking form for the webinar as it is a FREE webinar. However if you are unable to attend please let us know in advance so that we can offer your place to another person.
The webinar will be delivered via ZOOM and log in details will be sent in advance of the session. Please ensure you have the appropriate software/apps and login details before the session.
To book please contact Deborah@createsolutions.co.uk