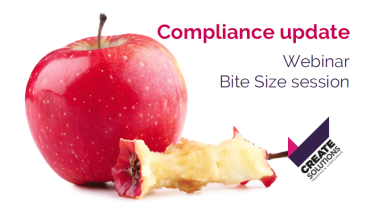 The FCA's plans for Appointed Representatives – what you need to know! 23rd December 10am
What you need to know about the FCA's proposed changes to the Appointed Representatives (AR) regime
Date: 23rd December 2021
Time: 10.00am-11.00am (1 hour webinar)
Delivery: Via Zoom (Details will be sent to you once you have booked your place)
Book on this session…
The FCA recently published a consultation paper (CP21/34) proposing stronger requirements on oversight of ARs.
This is your opportunity to learn more about the FCA's plans to change its rules and guidance for the AR regime, so that you can start to consider the implications for your firm's activities.
The FCA's proposals are intended to improve the principals' oversight of ARs and requires principals to provide the FCA with more information on their ARs. The FCA will also expect ARs to be more effectively overseen by their principals.
An AR is a firm or person who carries on a regulated activity on behalf, and under the responsibility of, a firm authorised by the FCA (the principal). In appointing an AR, the principal assumes responsibility for the regulated activities that the AR carries out.
The FCA is seeing a wide range of harm across all sectors where firms have ARs. This harm often occurs because principals don't perform enough due diligence before appointing an AR, or the harm occurs from inadequate oversight and control after an AR has been appointed.
This session is a must for Senior Managers, Executive Board Directors, Non-Executive Directors, Risk/Compliance staff, Operational staff, and individuals who have responsibility for Strategic Planning within the firm.
Also designed for:
firms who currently have, or intend to have ARs in the future
ARs themselves
The content will cover:
Why FCA CP21/34 has been issued
An overview of the FCA's proposals
What your firm needs to start considering
Questions and answers
This Bitesize session is aimed at raising awareness to the FCA's proposals and how they will impact firms. It will give you an overview of the FCA's expectations and intended changes, so that you can consider the effect of these on your firm's activities.
Delegates will receive a certificate of attendance.
To book contact: email Deborah@createsolutions.co.uk or phone 0161 870 6637
There is no charge for this session for Create Solutions clients.  We are providing these in place of our face to face workshops and ensuring that we work with you on important topics and continue to keep you informed during this time of change.