Lands' End to John O'Groats – Virtual Challenge
cs-admin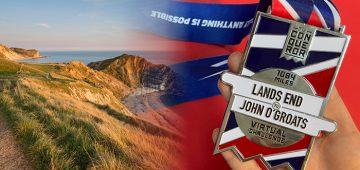 The Manchester Insurance Institute is excited to announce that they would like to challenge members and non-members in travelling the length of the UK in a Virtual Walking Challenge from Lands' End to John O'Groats – over 1000 miles!
Before you think "I am not fit enough to do this", there is no minimum or maximum number of miles you need to complete so don't feel you have to commit to a certain amount of mileage – you set your own personal goal.
Looking after ourselves physically and mentally are both very important and some of us may be feeling ready to put a spring back in our step, get motivated and look and feel better for the summer. Staying active is a great way to boost our wellbeing.
There is no limit to how many we can have on our team, but 20 to 30 participants would be great (even if you can contribute 10, 20, 50 or 100 miles to the journey that's certainly something worth shouting about!). Obviously, the more people we have on the team, the sooner we will complete it. Our distances will be combined, and we will conquer this as a team.
Each time you complete a distance-based exercise, you then enter your distance on the dedicated app and we can see where our team is advancing along the map of the UK.
How to enter: 
Have a look at the Virtual challenge website www.theconqueror.events/lejog/
The challenge will start on 1st May 2021 and our target completion date is 12th June 2021
Individuals will enter the challenge using the Conqueror app and we will be able to track our progress as a team. You can update and track your progress manually or by syncing your activities from your favourite tracker or smartwatch (details are on the Conqueror website).
Distance based exercises can for example include, Cycling (indoor and outdoor), Rowing, Walking, Running, Skiing, Swimming, Wheelchair etc
Conqueror also plant real trees as we advance, and we will even receive virtual postcards when we reach certain milestones!
There is a charge to enter the challenge of £34.95 per person which individual entrants pay and once completed you will receive a stunning medal from Conqueror. (Now wouldn't that be a great item to have in your life box).
Once signed up to enter the challenge, we will give you a code to join our team and you can meet your team-mates.
There are many ways you can take part and why not make this something you do with your friends, family, colleagues etc (obviously following government guidelines). You may want to also raise money for a local charity.
Create Solutions are sponsoring this event and have agreed to pay the equivalent of 7 entry fees to the Challenge to support the Alzheimer's society www.alzheimers.org.uk
Start your fitness journey. Send an e-mail to Karen@createsolutions.co.uk by Monday 19th April 2021 if you want to take part and we will contact you with further information to join us on this exciting journey of the length of the UK.